ROSSLYN CHAPEL 'UP ON THE ROOF' GANTRY SCAFFOLD PHOTOS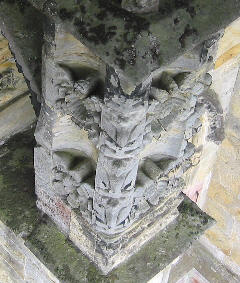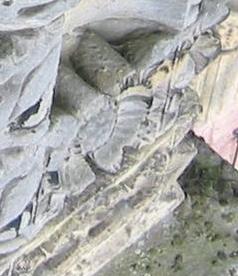 The 'SunFlower' Pinnacles and a close up shot of one of the exquisitely carved sunflowers. The Sinclairs had a French connection as they were originally 'St Clare's' so it's believed the sunflower was chosen to honour this geneologic root.

On the right - another Sunflower Pinnacle.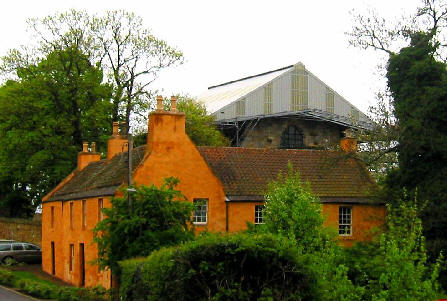 The Blade and Chalice guarding o'er Her gates.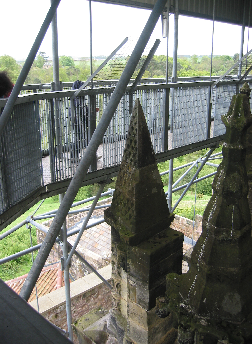 Even though it was May, there was such a bitter cold wind blowing that I had problems taking pictures with fingers that felt like ice sticks!. As you can see, the gantry is open on all sides to facilitate the roof drying out process and as such afforded little or no protection. However I felt that the unpara-lleled view of the stone-masons art was worth the climb despite the temperature!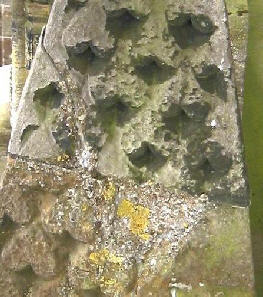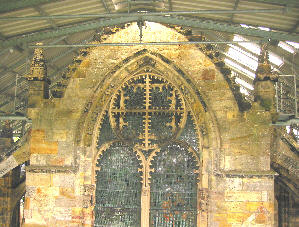 Front view and close up of the Sinclair 'squared circle' Rose Window showing the unique jagged tooth 'engrailement.' - this design is found throughout the Chapel and echoes the Sinclair Coat of Arms.
In 1057 William de St.Clare arrived in Scotland from Hungary with a delegation from King Edward "the Confessor".
William helped Malcolm III "Canmore" Dunkeld to regain the throne of Scotland. He escorted Malcolm's bride-to-be St. Margaret from the court in Hungary. He later fought against King William "the Conqueror". For his service to Malcolm, William was granted the life rent of Rosslyn and received the title of 'Cupbearer' to St. Queen Margaret.

Early Coat of Arms for William 'the Seemly' de St. Clare of Rosslyn with the 'cupbearer' engrailed cross.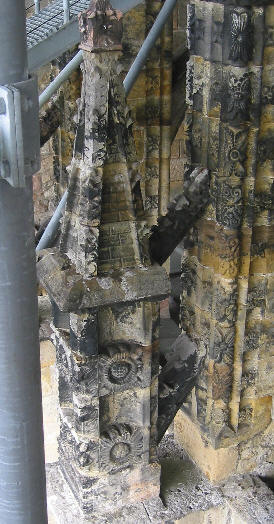 Each pinnacle is unique and a true example of the Mason's art.

As you can see by the close up on the right, this one has lovingly carved upside down hearts!